Manchester has been voted one of the most dog-friendly cities in the UK. As well as plenty of bars, restaurants, and pubs that welcome your four-legged friend, there's also lots of great dog walking routes within the city centre. Here are some of our favourite dog walking routes in central Manchester, all starting from Affinity Living Riverside.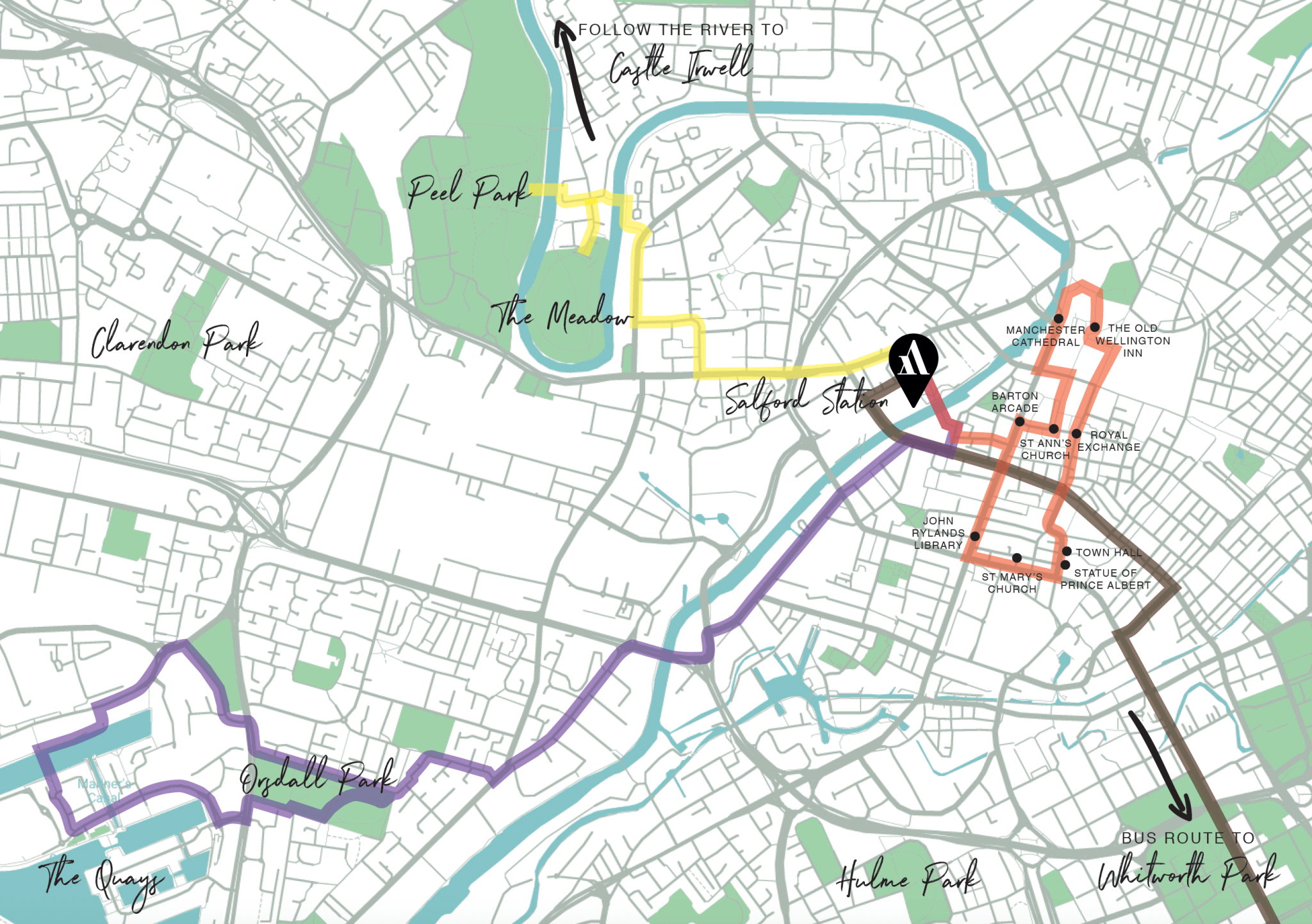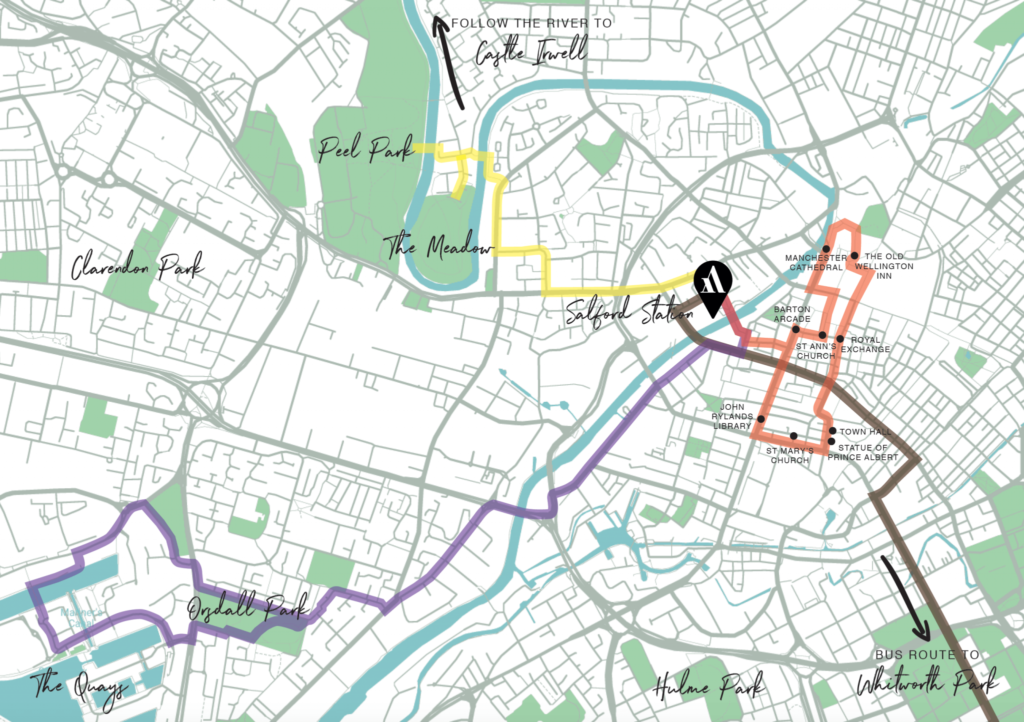 City Centre Greenery

Manchester city centre has plenty of dog-friendly parks and gardens. Head to Parsonage Gardens for a little green square of calm just 3 minutes walk from Riverside! Or go to Saint John's Gardens, another garden just off Spinningfields. These landscaped gardens let you take a break from the buzz of the city, and the well-tended paths and lawns are perfect for dog walking.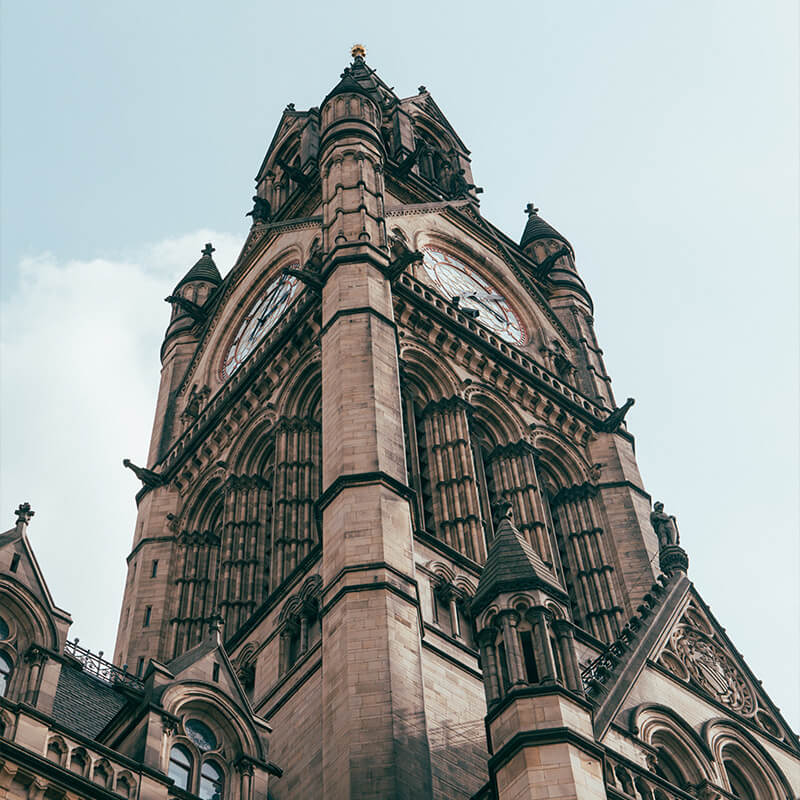 See the Sights
Follow the Red Route
If you're new to Manchester, this is the perfect dog-walk for you! This 20 minute walk will take you around some of the best historic landmarks in Manchester city centre!
Your dog-walk will take you past the impressive John Ryland's Library, Manchester's Town Hall and Cathedral, as well as an 18th century hidden gem, St. Ann's Church. There's plenty of guides online to give you more information as you walk, or just enjoy marvelling at Manchester's historic architecture!
(If your dog doesn't like crowds, you might want to pick a different route as this goes through the town centre.)
Take the bus to Whitworth Park
Follow the Brown Route
Just hop on a bus at Salford Station for a direct route to Whitworth Park. (Did you know, all buses and trains in Manchester are dog-friendly?) As well as a fantastic art gallery, Whitworth Park also has 17 acres of green space for you and your dog to enjoy! Dogs on a lead are welcome throughout the park, and are even welcome at most of the park's outdoor events and festivals.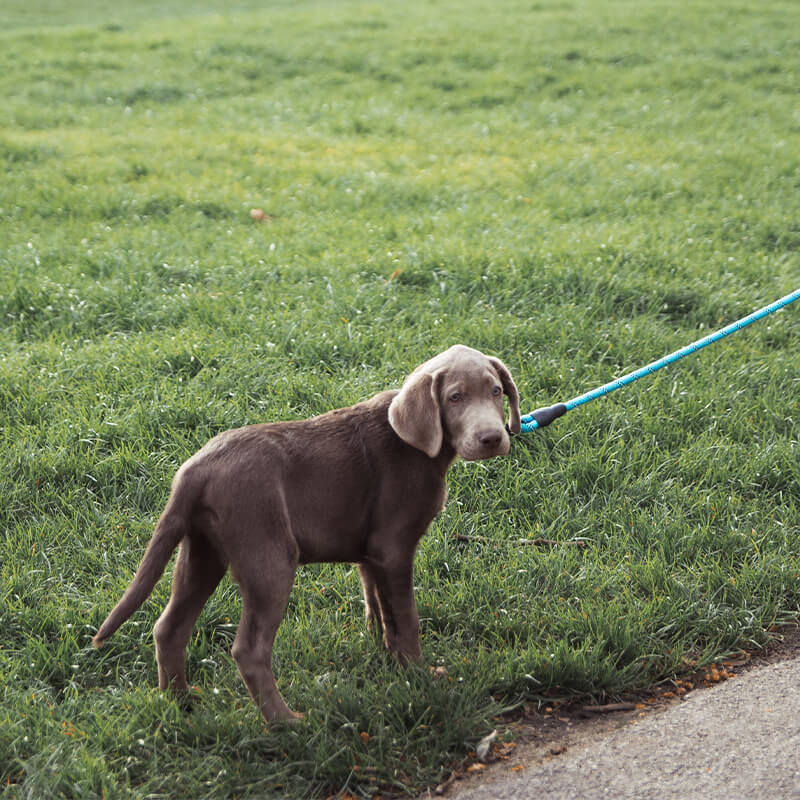 From Pavements to Parks
Follow the Yellow Route
This city centre dog-walking route gives your dog a great mix of walking on the lead and being able to let loose.
Heading away from the city centre, this dog walk takes you through quiet residential roads towards large parks on either side of the River Irwell. The Meadow is left more natural, whereas Peel Park is more landscaped with a play area, sports pitches, and is home to Salford Museum and Art Gallery.
Really Get Back to Nature
Beyond the Yellow Route
You wouldn't believe this nature reserve is so close to the Manchester city centre! If you like a long walk, simply follow the river to the Kersal Wetlands. Or just hop on one of the frequent direct buses.
When you're there, your dog will have over 25 acres of greenery to enjoy! Dogs only need to be kept on the lead in the wetlands area, as this is a protected bird nesting site, but are free to be unleashed and wild everywhere else.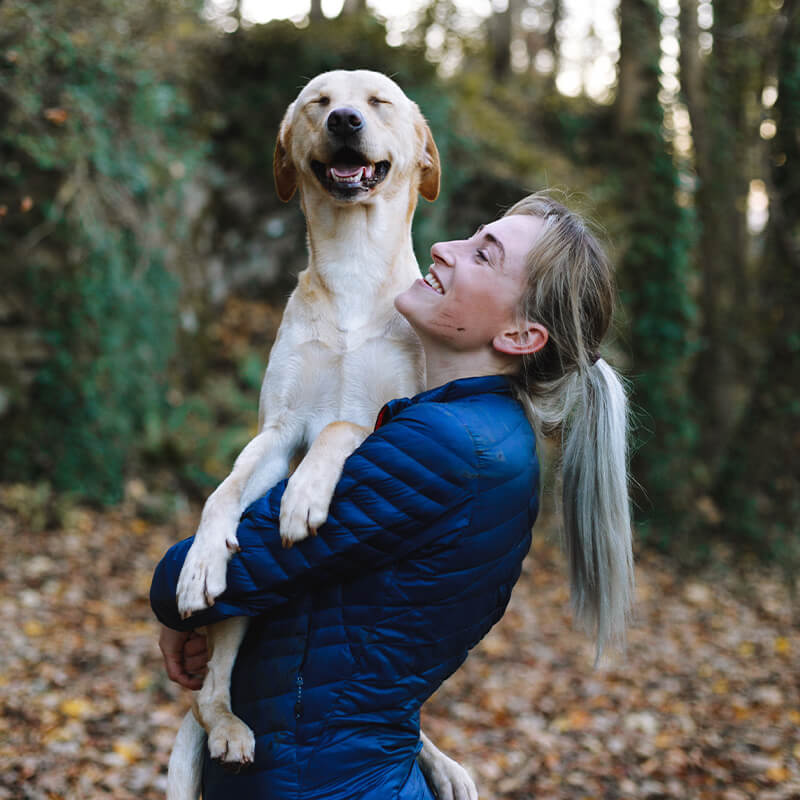 Stroll around Salford Quays
Follow the Purple Route
Fancy a long, leisurely dog-walk on a weekend afternoon? Follow the River Irwell towards Salford Quays for the perfect destination to stroll around and explore with your four-legged friend.
It's about a 40 minute stroll to the Quays from Affinity Living Riverside. When you're there, you have plenty of bars and restaurants with outdoor seating to enjoy and stunning views of the water. This is easily somewhere you and your pup could happily spend a day!